Large zipped hoodie
Have a look at large zipped hoodie which you can change in to different colors. You know that life is too short for boring things!
Raincoat easily folds into a handbag
Thinking what to do when rain stops and sun starts to shine? Our raincoat easily folds into a handbag. Because it was made for you to feel comfortable every day!
Zipped tail
Change your tail every day! Oh yes, you can do it easily because it is zipped and we have lots of colors to choose. Create your own style and be visible!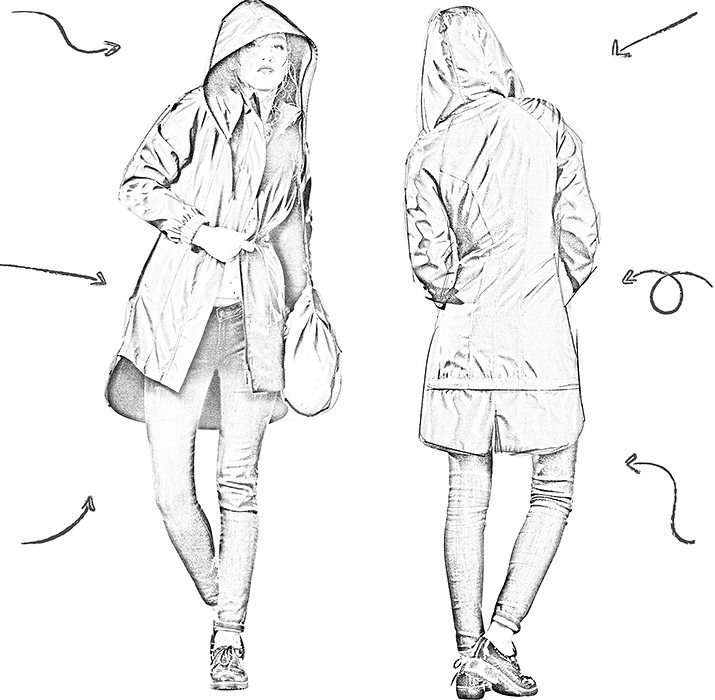 Two sided front zipper
We thought about everything that makes you feel comfortable! Find the advantages of two sided front zipper.
Waterproof shell
Feel feminine and confident when heavy rain starts but you have to look simply perfect because important meeting is waiting. Waterproof shell will do its work.
Natural viscose lining
It embraces you so soft even when you are in the storm… Enjoy the natural viscose lining.
Ducktail Raincoats is an extraordinary rainwear brand defined by its quality, functionality and modern style. Our mission is to protect people from the rain in style. Ducktail Raincoats will make you stand out with exceptional details and unique color combinations.
| | | |
| --- | --- | --- |
| FINLAND | World of TRE | Mikonkatu st. 6, Helsinki |
| ESTONIA | LEVI Design Shop | Solaris Keskus, Tallinn |
| | MUST disaini pood | Viru Keskus, Tallinn |
| | Disainimaja | Kalevi 15, Tartu |
| LATVIA | BaltIc.Space | Ieriķu iela 3, Rīga, LV-1084 |
| LITHUANIA | Baltas miskas | Raugyklos st. 6, Vilnius |
| | Locals | PLC Panorama & PLC Europa, Vilnius |
| | Taskuota suknele | Stikliu st. 7, Vilnius |
| | Wapsva | Vilniaus st. 138, Siauliai |
| |  kARTu | Donelaičio st. 24, Kaunas |
| BELGIUM | Farrah Floyd Concept Store | Rue du Vieux Marche aux Grains 39, 1000 Brussels |
| | | |
| --- | --- | --- |
| USA | Momo Seattle | S. Jackson st. 600, Seattle, WA |
|   | Steadfast Supply | 301 Tingey Street SE #120, Washington, DC |
| JAPAN | TRE Japan | 2F Market hall, Metsä Village, 319-1-1 Nenokami, Miyazawa, Hanno, 3570001 Saitama |
| SOUTH KOREA | Put On Art | putonart.com |