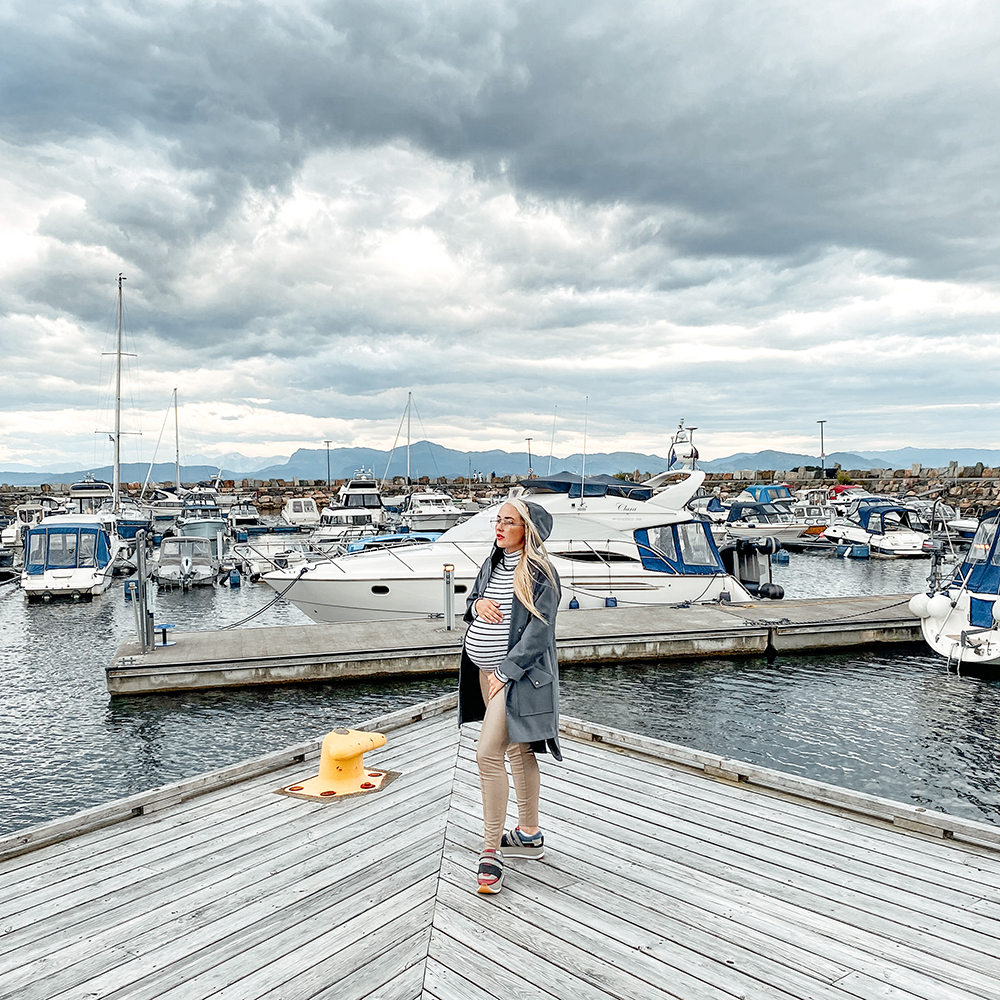 Justina Kreivė and her pregnancy story
One of our customers, Justina Kreive, is now a happy mother of a newborn. She lives in Norway and got her Grey City raincoat at the beginning of her pregnancy. We asked her to share some thoughts about the joys and challenges of being pregnant and if the raincoat was useful throughout this period of her life. "The raincoat was a total life-saver all these months", – she says. "I live in Bergen and it is one the rainiest cities in the world. No one goes anywhere without a raincoat. I used to button the coat with one or two snap closures just above the belly and kept wearing it almost till the very end."
Forgiving design
Due to the gender-neutral design, the City raincoat is forgiving for the middle section of the body. If you are pregnant or plan to layer lots of sweaters underneath the raincoat, we always recommend buying it one size bigger than you normally would. "Raincoat is a MUST when you are carrying a baby because it's 100% waterproof and windproof. One of the most important things while being pregnant is not to get sick or catch the flu." – tells Justina. "When I bought the raincoat, I've lost my fear to go outside when the weather is less than perfect. I used to always stay at home after seeing dark clouds coming and now, I can take a walk whenever I feel like it."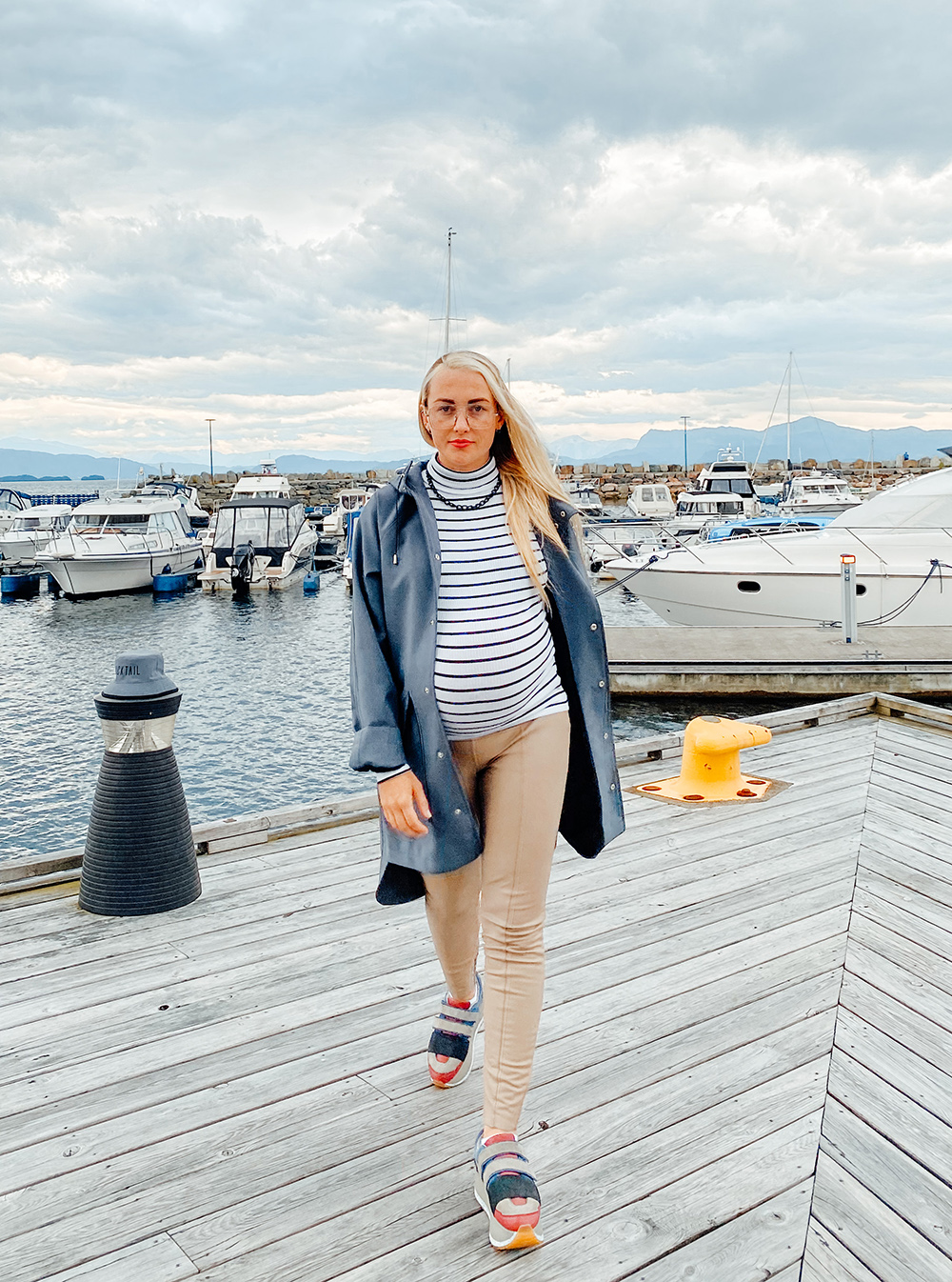 Multiple ways to use a raincoat
As we got to know from Justina, the raincoat was not always used as a raincoat. "The raincoat is absolutely essential for our family. Firstly, I always offer my husband's raincoat (it's also a unisex City design) for my friends who come to visit me. They mostly travel with just a cabin bag and cannot bring all the proper gear to go hiking. I have to say, that although my husband's raincoat is a size bigger, it was a good fit for every girl I gave it to. You just need to roll up the sleeves and you're ready to go explore the beautiful nature in Norway." – she claims. "Furthermore, we have used our raincoats in all sorts of different situations – it was a blanket, a table cloth, even a nursing table once! One time, while we were traveling in the countryside, the raincoat was the "roof" for me. We were walking under the waterfalls and if not for the raincoat, I would have never had the courage to come so close. The view was incredible! One of the most amazing things I've seen in my life."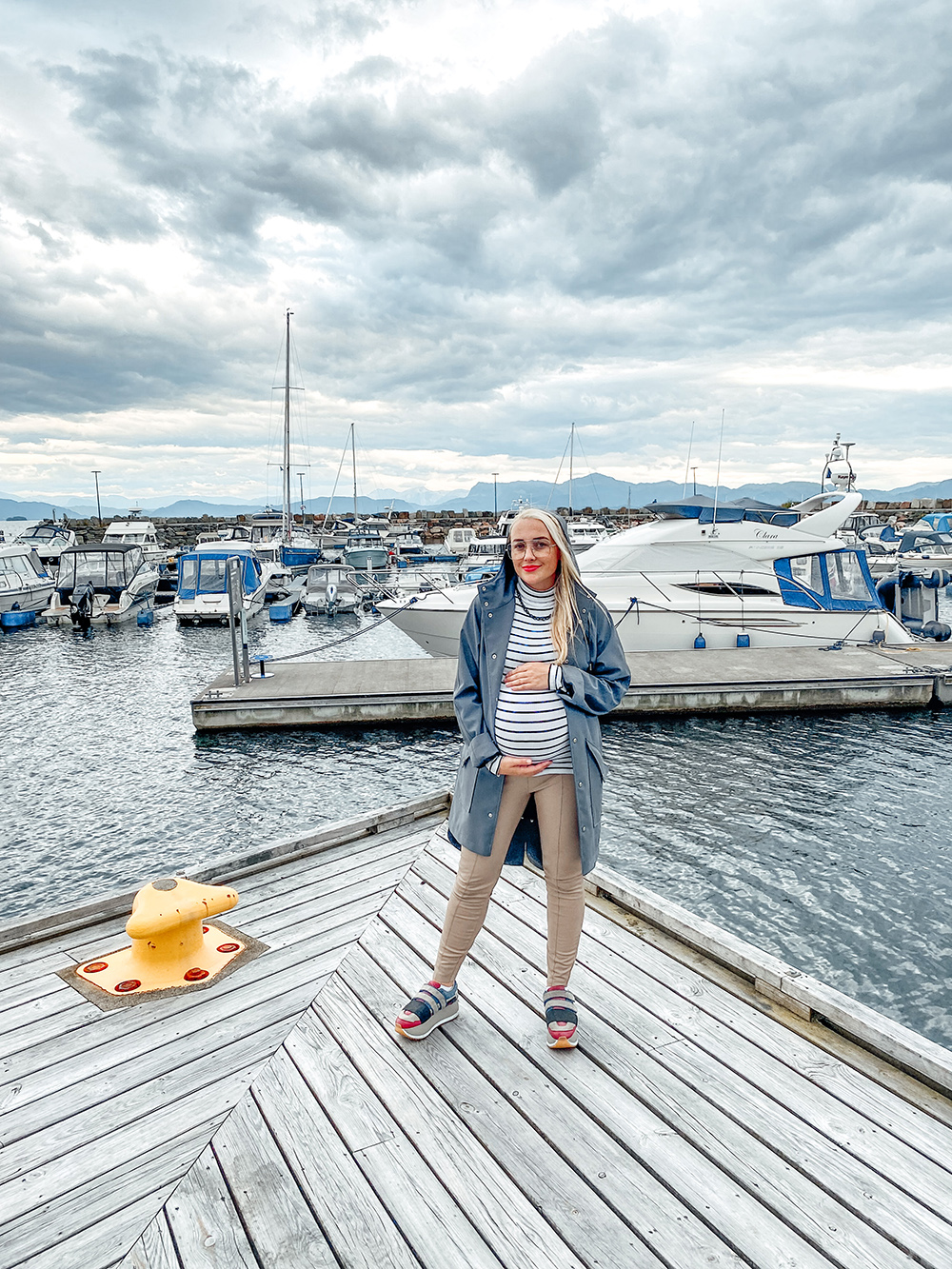 Boost your self-esteem!
While being pregnant, it's important to take proper care of your health as well as maintain a good emotional state. Getting outside, breathing fresh oxygen and experiencing nature is crucial. "I believe, there is one thing almost all women experience during pregnancy – it's a feeling of being "big". – Justina shares. "I knew it has nothing to do with being fat and that it's a baby growing up inside me. Nonetheless, when most of your beautiful clothes don't fit you anymore and you are always in tracksuits, it doesn't help your self-esteem. My raincoat helped me feel stylish during this period of my life and it also made me look "smaller" than I actually was."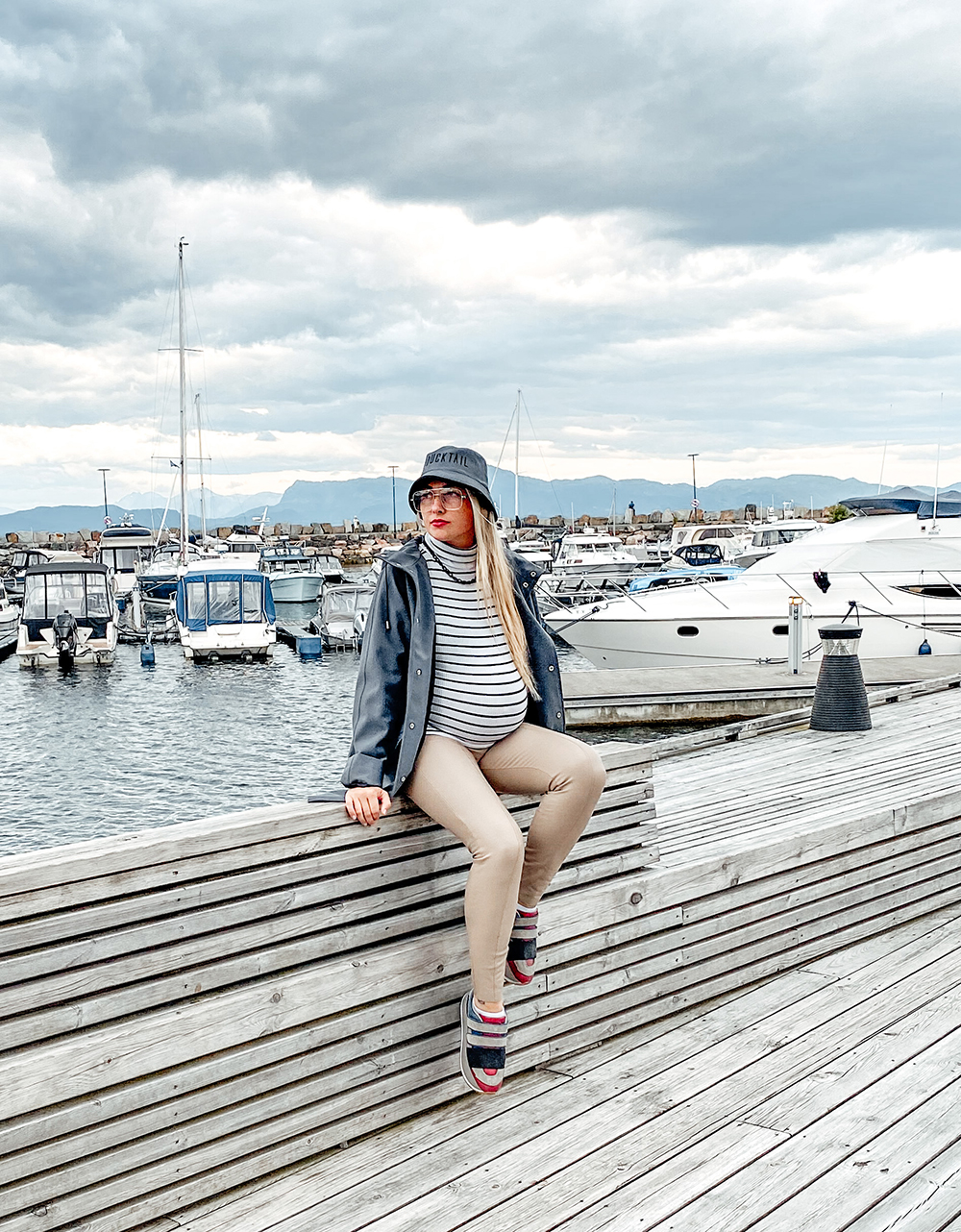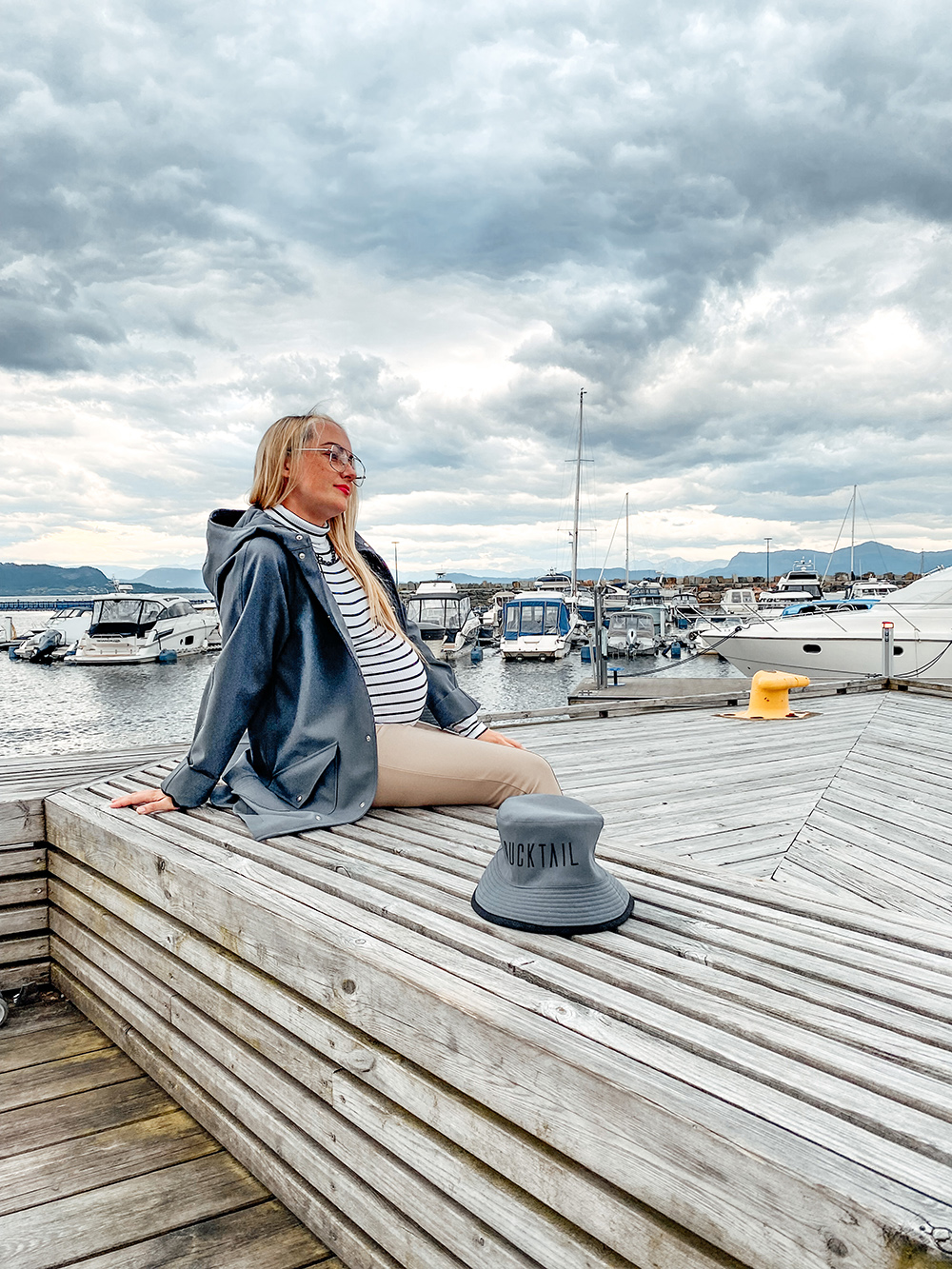 Fun stories
To wrap it up we asked Justina to share the funniest story related to the raincoat. "Oh, there were so many… I think the funniest one was with the lower part of the raincoat (the tail), which can be detached. One day, when a couple of my friends were visiting, we were in a hurry the whole time, trying to see as much beauty of Norway as possible in a short period of time. My raincoat was in the back of the car along with some suitcases. When we arrived, I took the raincoat and we left. During the walk, I asked one of my friends to take a picture of me. Afterwards I looked at the picture and got confused. "Where's my tail?!", I asked. "What do you mean, the tail?" – my friend was even more confused. When we got back to the car, we saw the famous tail stuck under the suitcase. It must have detached when I was pulling out the raincoat and I didn't notice. We all laughed hard and went on with our trip."
As we always say, the raincoat is a super versatile piece of clothing in a huge variety of situations. Do you have a story of your own? Contact us on social media and we will share it in the next blog post.