Like every remarkable journey, the story of "Ducktail Rainwear" had its humble beginning. This blog post aims to chronicle the brand's journey, its triumphs and challenges, and to share its valuable experience gained throughout the years.
It all started… 
In April 2016, two girls embarked on a mission to create something entirely new. Even though Lithuania is listed among the rainiest countries, raincoats were not a popular item at the time. Inspired by ducks, they come up with a concept that would change that. After researching and developing the idea, they established a brand with a deep desire to make their dreams a reality. And so began the journey of bringing a new kind of rainwear to market. 
2016
In the beginning, Vigita and her partner at the time worked with her tailor to create the very first Women's Tail Raincoat with a unique feature: a "duck tail." This detail became one of the most recognizable features of what was then called "ducktail raincoats." Not only did it give the coat a distinctive touch, but it was also extremely functional. The reflective part protected at night, while the fabric part offered protection from splashing water. In addition, this raincoat was distinguished by its unique ability to conveniently fold into an elegant handbag.
In the first few months, the product attracted the attention of a prominent influencer, at the time Agnė Jagelavičiūtė. She contributed to helping "Ducktail Raincoats" reach new heights. Quoting Vigita: "Soon the sales increased, which was unexpected for us, as we were still new in the industry. Our raincoat was launched in May, and by June we were known in Lithuania". The Women's Tail Raincoat was even submitted for the "Good Design" award and placed 3rd. The recognition led to funding for the development of a second raincoat model.
2017
In 2017, "Ducktail Raincoats" launched the Unisex City Raincoat, an improved version of the earlier Women's Tail Raincoat model. From the beginning, we recognized the importance of including everyone and responding to their needs. For this reason, the Women's Tail Raincoat was replaced by the Unisex City Raincoat. Since then, every raincoat has a detail of the "ducktail" in the form of a reflector or simply as a detail on the back of the raincoat.
The Unisex City Raincoat was the starting point for our expansion into foreign markets. We presented the Unisex City Raincoat at the Tokyo Design Trade Show 2017 and at our favorite trade fair, Helsinki Design Week, to which we return every year.
2018 – 2019
Following the "Design Tokyo" fair, we entered into a valuable partnership with the renowned retailer "TRE Japan" in 2018, which continues to this day. 'TRE Japan' is known for its expertise in Nordic luxury products. This collaboration helped raise awareness of the "Ducktail Rainwear" brand throughout Japan, resulting in significant brand development. As the company expanded, we designed a new raincoat that caught the attention of our female audience. With its elegant, sophisticated, and minimalist design, the  Women's Iconic Raincoat quickly became a must-have among fashion-conscious women. We then expanded our reach by showcasing our products at the 'Jacket Required' trade show in London and the 'SEEK' trade show in Berlin. Building on these successes, we launched a crowdfunding campaign in South Korea in 2019 to further strengthen our brand's presence in the global market.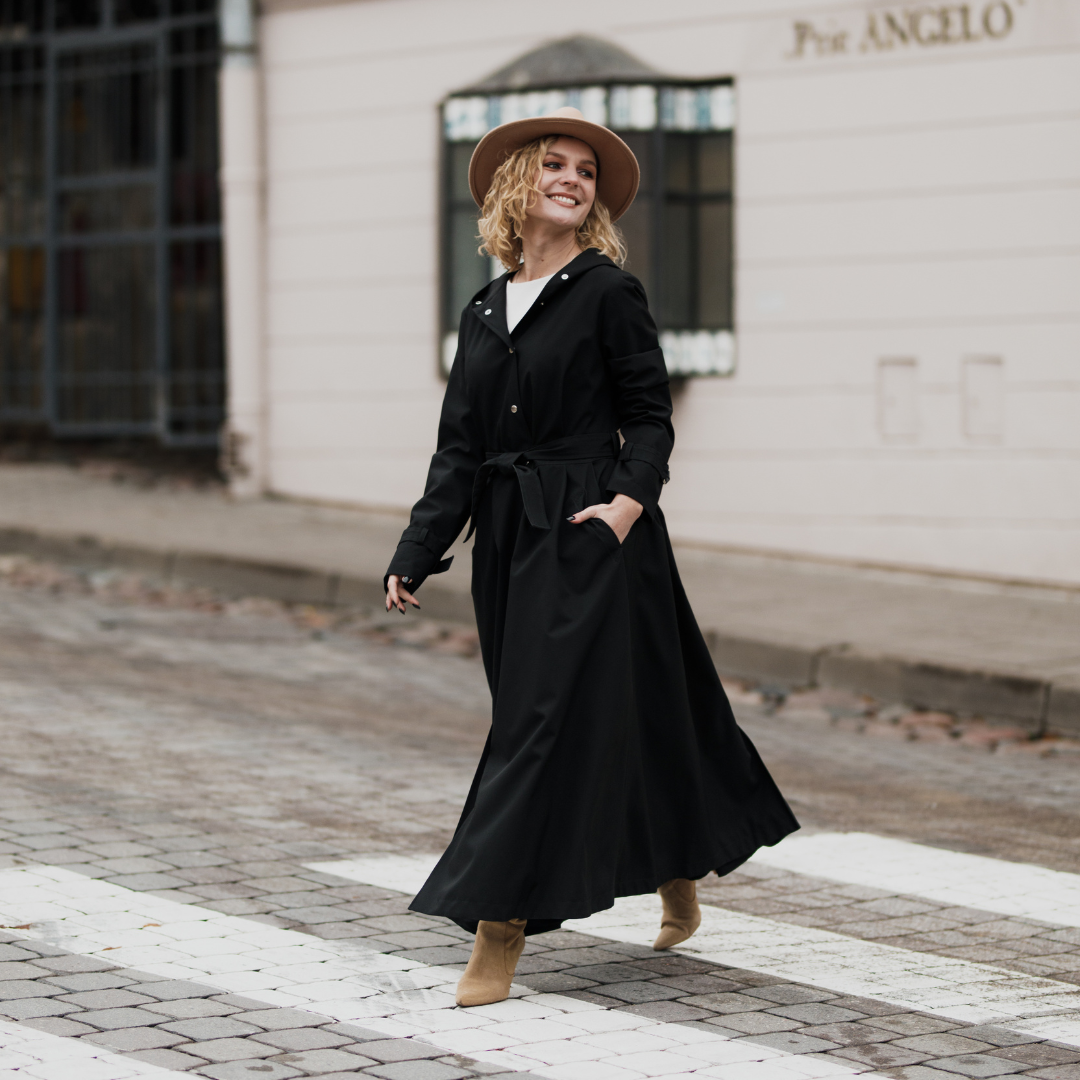 2020
The year 2020 was all about Covid, but production did not stop there. Unisex Leisure Raincoat was released. The raincoat was both functional and practical. "We were constantly reached out by our male customers to design something short, especially for them". But we decided to make it for both men and women – a unisex model. It was made for active people or comfortable drivers. The raincoat has inside pockets, wide pockets on the front, and a comfortable hood. Finally, we have come up with a real improvement for the raincoats – sealed seams, which became an integral part of Ducktail raincoats providing even better protection from the rain.
2021
 2021 was a pivotal year for Ducktail. We celebrated our 5th anniversary and proudly launched a new raincoat for women – the Flare Raincoat. The raincoat is comfortable to wear while biking, walking, or attending events. With the name change to "Ducktail Rainwear," we also introduced a new logo, a new direction, and a renewed commitment to sustainability by using recycled materials certified by ICEA. This not only opened up more opportunities for us but also earned the trust of our customers. But perhaps the highlight of the year was the fulfillment of a long-held dream: a partnership with the Lithuanian Ornithological Society. As part of this partnership, we committed to donating 2% of every purchase to help save water birds. 2021 was not without its challenges, but we were delighted to see our dream become a reality. Today, all of our raincoats are made from recycled polyester, and our beloved ducks are thriving in their new, safe habitats by the rivers and lakes.
2022 – 2023
In an effort to delight our customers with fresh and captivating offerings, we launched our newest product in 2022: the Unisex Marila Raincoat, which quickly became a bestseller and was nominated for a "Good Design" award in the "Fashion and Accessory Design" category. A completely new product was also produced, the Raincoat for Dogs. The production process was a lot of fun, we met many wonderful dogs and their owners. And finally, we collaborated with talented photographer Monika Penkutė for a photo shoot that significantly increased the presence of our brand both in the local and international markets. We also unveiled a new logo and color palette for our raincoats, staying true to our core message of "At peace with nature and your true self.".
Conclusion
We are excited to showcase the incredible journey over the years. When we see our customers wearing Ducktail Rainwear, it brings us great joy. In today's fast-paced world, durable products have become even more valuable. That's why we strive to help our customers understand the importance of what they buy and where they buy it. Our choices not only affect us but also have a significant impact on the environment in which we live. All in all, this journey continues to this day, and we are very grateful for each of you who has supported us during this time. It makes us proud of what we have become and spurs us to keep going, no matter how great the challenges are.
All love,
Ducktail.